Ksport Coilover Kits provide the ultimate in suspension technology for your street car. 36 levels of damping adjustment allow you to fine tune the ride to your handling and comfort needs.
 The damping adjusts compression and rebound simultaneously for ease of adjustment. Pillow ball top mounts in the front and rear on some applications allow you to maintain vehicle manufacturer suspension geometry design.
 The pillow ball top mounts also allow you a more direct feel for solid driver response. Where available, camber adjusted via the Pillow-ball Top Mounts, which means no additional "Camber Kits" are needed.
 Most applications utilize an adjustable lower mount, which means you adjust height without losing suspension travel like some other coilover designs do.
 The steel shock body is electroplated with zinc to resist rust and the elements. The valving of each set is matched to the springs installed for unmatched ride quality and reliability.
 The Ksport system uses a Monotube design in which the oil and gas are separated within the cylinder. When compared to twin tube designs the Monotube dissipates heat better, allows finer damping adjustments, and requires more expensive design process. Aeration and cavitation are a lot less common in a Monotube design, which results in a better ride.
 Wilkinson Suspension stock Ksport for late model Commodore's and Falcon's.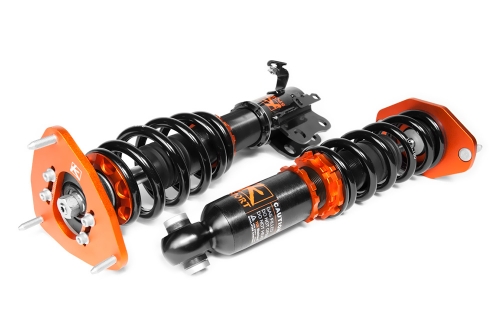 Product Features:
Combined rebound/compression adjustable dampers with 36 points of adjustment
Toolkit included with every K-Sport coilover kit
Individually height adjustable
Ready to install complete solution
Quality components for long durability
Complete documentation for easy handling
18 month warranty