EVERYTHING YOU NEED TO KNOW ABOUT SHOCK ABSORBERS
Are you in the market for a set of shock absorbers and want to make sure you get the best bang for your buck?
Whether you need front shocks, rear shocks, or both, our friendly team of suspension experts has years of experience recommending and installing high-quality shock absorbers to suit anything from your everyday passenger sedan, off-road 4WDs, SUVs and even race cars.
We created this comprehensive page with answers to frequently asked questions so you can learn more about aftermarket shock absorbers and make the best decision for your vehicle!
Prefer a full suspension lift kit? Check out our page on lift kits.
Still have questions? Contact us through the Enquiry Form. We're happy to help!
WHAT IS A SHOCK ABSORBER?
A shock absorber is an integral part of the suspension system.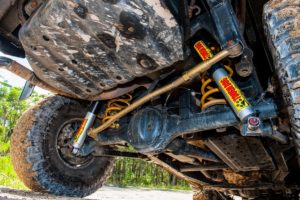 It is essentially a hydraulic pump-like device that is designed to dampen the impact of shock impulses in order to control the vehicle's motion.
A shock absorber serves the purpose of reducing excessive suspension movement as it dampens spring oscillations.
HOW DO SHOCK ABSORBERS WORK?
Shock absorbers vary depending on the manufacturer and design, however, the principals are the same.
When you're driving your car, a piston rod moves up and down against a hydraulic liquid inside the tube design of a shock.
As the piston travels up and down, it forces the hydraulic liquid through a valve. Only a small amount of liquid can travel through the valve's tiny holes, which slows down the movement of the piston, effectively reducing the impact of shock impulses.
WHICH TYPES OF SHOCK ABSORBERS ARE THERE?
All shock absorbers are designed to achieve the goal described above (reduce the impact of shock impulses in order to control a vehicle's motion), but different manufacturers use alternative design methods. The common designs are:
MONO-TUBE SHOCKS
As the name suggests, these shocks components are all contained within one tube.  The body or case of the shock is the "Working chamber". Within that chamber is the piston valve, oil, and gas. A mono-tube shock absorber utilizes a free piston which separates the oil chamber from the gas chamber within the shock body.
TWIN-TUBE SHOCKS
This design features an outer reservoir tube and an inner pressure tube filled with oil. As the piston moves up and down inside the pressure tube the oil is forced through the piston head and foot valve. The Foot Valve controls the flow of oil through the inner and outer tube.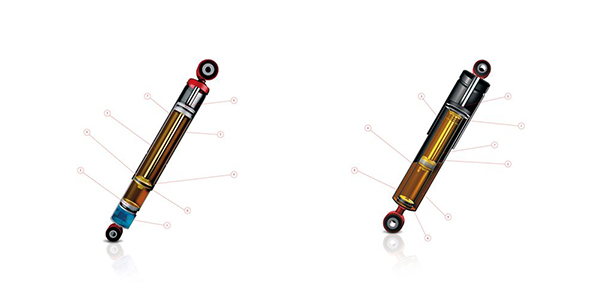 Examples of a Mono-tube (left) vs Twin-tube (right) shock absorber.
To further this some manufacturers use additional methods to enhance the shock absorber's performance.
It's likely you have heard the likes of Gas or Foam Cell but you're unaware of what it actually means or does.
NITRO GAS SHOCKS
Nitrogen Gas shocks use gas pressure to reduce the formation of bubbles caused by forcing hydraulic liquid through the valve.
FOAM CELL SHOCKS
Foam cell shocks use sheets of foam to capture these bubbles.
Manufacturers such as Tough Dog employ the use of a Foam Cell Insert in the outer tube to prevent bubbles forming in the oil which is the leading cause of shock fade.
ADJUSTABLE SHOCKS (DAMPING)
An adjustable shock means you have the ability to make adjustments to the damping forces. In most cases the rebound (extension stroke) and compression (downward stroke) are adjusted together, adjusting the unit softer allows the piston rod to move more freely which reduces the shock control, adjusting the unit firmer slows the movement of the piston rod down which increases the shock control.
High-end Race type shock applications usually feature independent rebound and compression adjustability for maximum control over the handling behaviour of the vehicle. Allowing the driver or engineer to fine-tune the handling characteristics such as reducing body roll, changing the way the vehicle weight transfers, reducing understeer or oversteer.
Off-Road and 4WD adjustable applications usually feature rebound & compression damping adjustment together to allow the driver to make adjustments based on the terrain. If the vehicle is attacking slow speed "rock crawling" the vehicle is using maximum articulation it's important to have the tyre make contact with the ground as quick as possible to get that all-important grip, softening the shock will assist with this. If the vehicle is travelling quickly over corrugations the shock requires more dampening control so the shock would be adjusted harder.
Please contact our suspension professionals for personalised help with selecting a pair of shocks that suits your vehicle.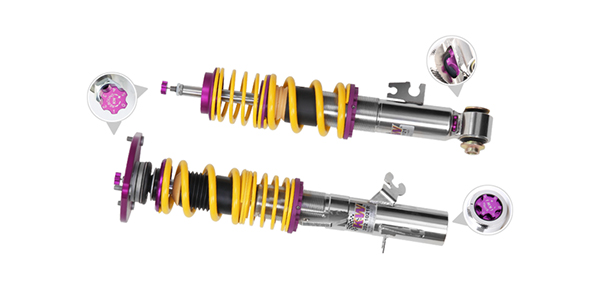 KW Suspension Coilovers with rebound and compression adjustment for Race and Performance Applications
FREQUENTLY ASKED QUESTIONS ABOUT SHOCK ABSORBERS
As leading suspension experts in Perth and the rest of WA for over 30 years, a lot of people come to us with their questions about shocks.
Below you can find our answers to some of the questions we were asked most often. We hope this information helps you learn more about shock absorbers and bust any inaccurate information or myths you may have heard on the topic!
WHAT MAKES A GOOD SHOCK ABSORBER?
A good shock absorber is all about using the right tool for the job!
After 30 years in the automotive suspension industry, we've established a platform of trusted brands. We have built a rapport with these manufacturers and worked with them to provide feedback in order to provide a better service and product to our loyal customers.
With this in mind, we have the ability to provide product advice and guidance based on our customers' requirements.
Feel free to give us a call on 08 9370 2646 to discuss options for your vehicle!
HOW MUCH DO SHOCK ABSORBERS COST?
We understand that price is an important factor when getting work done or replacing parts on your vehicle. The good news is that we offer brands that cater to those on a budget and those who are wanting to spend a bit more on premium or specialty products.
Prices will depend on the vehicle model, brand choice and shock type.
HOW MUCH DOES IT COST TO INSTALL SHOCK ABSORBERS?
Our installation fees depend on the labour involved which is specific to the vehicle, it's suspension set up and the type of shock absorber.
Please contact us for a personalised quote.
HOW TO FIT SHOCK ABSORBERS?
We always recommend getting your suspension fitted by a professional.
Here at Wilkinson Suspension, our team of qualified mechanics are on hand to install your new suspension parts and complete a wheel alignment.
Contact us for an obligation-free installation quote through the Enquiry Form, call us on (08) 9370 2646 or drop in at our custom-built suspension workshop in Bayswater, Perth.
Let us take care of the hard work!
HOW TO TELL IF SHOCK ABSORBERS ARE WORN OUT?
If you've noticed a lack of ride comfort or stability when driving, it could be due to worn out shocks!
To check the shock absorbers on your vehicle, try the bounce test. If the vehicle oscillates more than once after downward pressure is applied to either end of the vehicle, this would signify the shocks are worn out.
Other signs to look out for:
Leaking fluid on the exterior of the shock body
Diminished ride comfort over bumps or uneven surfaces
Lack of stability driving around bends and body roll
Uneven tyre wear